Art Gallery
Centers
Enneagram
Healing Arts
Just for Fun
Know Yourself
Prosperity
Shop
This page was developed for entertainment and pleasure. The affirmations and operative words come directly from "You Deserve These Cards!" by Holly and Rick Hogue and Poochie Myers.

The affirmation is what is important. The operative words associated with the affirmation may or may not relate to the question you have asked. The operative words are more helpful for readings using three or more cards. They can be used to clarify your question and provide insight to the affirmations you select. It's also good to keep in mind that you always have a choice to stay on your current path or select a new direction.

Instructions: There are no rules here! Pick a number from 1 - 200 and then press on your number in the squares below for your affirmation reading. Every affirmation includes a color square which represents a color or combination of colors to provide additional meaning to your affirmation. You have the option to look at the color square's interpretation by clicking on the word "color," which will open a new window. To return to your affirmation reading, simply close the color information window.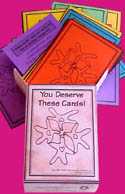 Feature:
You Deserve These Cards!
by Holly and Rick Hogue
and Poochie Myers


By asking for something in a positive manner and believing that You Deserve what you're asking for, an affirmation or two helps you manifest what you want much more quickly, or better times ten! You will always select the most appropriate affirmation for you. The deck of cards are $15 and each purchase helps support the Ask for Prosperity web site.