Sections:
Art Gallery
Classifieds
Centers
Enneagram
Forums
Healing Arts
Just for Fun
Know Yourself
Professionals Directory
Prosperity
Seminars
Shops
What's New?
Frank Don
Frank Don is a professional astrologer whose accurate predictions have been reported in The New York Times and L.A. Weekly, and who provides Personal Consultations in person or by phone, and writes weekly, monthly and seasonal astrology electronic newsletters. Frank has given Prosperity permission to republish the monthly Astrology Energy Patterns for everyone to enjoy. He is also the Astrology Forum leader.
The MostGifted Psychics
The MostGifted Psychics are experts – tested and screened – in astrology, relationships, past life readings, clairvoyance and many more psychic disciplines. They can provide you valuable and life changing insight into your relationships, your career, your loved ones, your financial well-being and the paths you should take.
---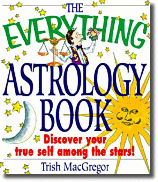 The Everything Astrology Book

Discover Your True Self Among the Stars!
by Trish MacGregor
Web hosting
and development
by Intent.Net