Sections:
Art Gallery
Classifieds
Centers
Enneagram
Forums
Healing Arts
Just for Fun
Know Yourself
Professionals Directory
Prosperity
Seminars
Shops
What's New?
Aurora Center
The Aurora Center offers classes and workshops in meditation and spiritual development, and on-going meditation circles and support groups that empower you to be the best you can be.
Delphi University
Located on a beautiful whitewater river, deep in the Blue Ridge Mountains where the States of Georgia, North Carolina, and Tennessee meet, Delphi is a Center for transformation, renewal, and higher order agendas.
---
Pathways to Health
Pathways to Health is a community based holistic treatment and education center designed to provide physical and psychospiritual services which integrate traditional and alternative forms of healing.
---
Total Health Center    Institut Sante Globale
Close to lavender fields in the beautiful Provence, South of France, the Total Health Center is open to all those who want to learn or to teach how to live healthily and happily at all levels of their beings. Founders Christian Tal Schaller and Johanne Razanamahay give lectures, seminars and channelling sessions all around the world.
---
Universal Life Healing Center
Founded in 1993, the Universal Life Healing Church and Spiritual Center emphasizes healing and spirituality through various kinds of healing services, classes, workshops, speakers, and nondenominational Sunday services.
---
Feature:
Christian Tal Schaller and Johanne Razanamahay
Total Health Center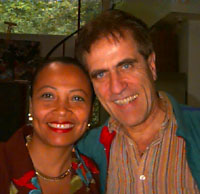 Christian Tal Schaller and Johanne Razanamahay give talks on all areas of physical, emotional, mental, and spiritual health as well as channelling sessions with their spiritual guides: Jadis, Altesse, Being of Light, Fun, Feathered Buffalo, and more. They organize firewalks as a spiritual ceremony helping to trust the inner power of each individual. They give one, two, or three days long seminars for allowing people to learn basic health methods that give independence and balance. More than everything Tal and Johanne are happy people who enjoy living every moment with real love, gratitude, simplicity, and gaiety!