Sections:
Art Gallery
Classifieds
Centers
Enneagram
Healing Arts
Just for Fun
Know Yourself
Professionals Directory
Prosperity
Seminars
Shops
What's New?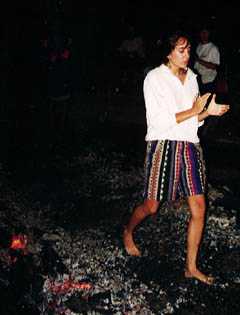 Total Health Center
Christian Tal Schaller and Johanne Razanamahay show that "HEALTH CAN BE LEARNED" and this can be done with simplicity, pleasure and enthusiasm! Everywhere their message of joyful living is warmly welcomed because they "walk their talk" in practicing the techniques they teach. They organize firewalks as a spiritual ceremony helping to trust the inner power of each individual. More than 1,000 people have firewalked with their guidance.
Universal Life Healing Center
Firewalking is just one of the special events scheduled by ULHC! They also have a variety of readings and therapies, Reiki exchanges, physical immunity demos, alternative healing fairs, guided meditations and the Keys of Enoch Study Group.