Need web hosting?
Please visit our sponsor:

Sections:
Art Gallery
Classifieds
Centers
Enneagram
Forums
Healing Arts
Just for Fun
Know Yourself
Professionals Directory
Prosperity
Seminars
Sensational Seniors
Shops
What's New?
November 21, 2000
---
Send your photos to info@intent.net to be posted in this web site for your friends to visit.
Go to the Prosperity Main Page
See more photos in Prosperity Fun
Feature:
You Deserve These Cards!
by Holly and Rick Hogue and Poochie Myers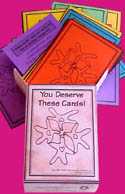 A box of You Deserve These Cards! contains 100 playing-size cards in a rainbow of chakra colors, with affirmations and operative words on each end. Each $15 purchase helps support the Prosperity web site.