Sections:
Art Gallery
Classifieds
Centers
Enneagram
Healing Arts
Just for Fun
Know Yourself
Professionals Directory
Prosperity
Seminars
Shops
What's New?
Debra Susan Antin
Among the many items in "A Truth Serum Formula" is an inspirational cassette on breast cancer by Debra. Read Turning Lemons into Lemonade, Instead of Sour Grapes into Whine! for a glimpse of her positive attitude and wonderful sense of humor.

Sara Creekmore Glass
Step into our mystical, etheric world and hold magic in your hands. These magical dichroic art glass objects have been created with intent at the Magdalena, New Mexico studio of noted glass artists Sara Creekmore and David Durham.

Sharon Klingler
is a clairvoyant and medium providing private consultations and classes in many metaphysical directives. Contact Sharon or fine-tune your intuitive skills with her audio tapes: Reading the PSIgns, Speak With The Spirits, Travel Into Your Past Lives, and Healing The Darkness.
---
Article:
Pregnancy Yoga
by Diane Rabinowitz
Feature:
Sharon Klingler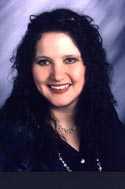 Though Sharon has a B.A. in psychology, it was the experience of telepathic communication with her identical twin that led her to a curiosity about greater consciousness. By age twenty she had clinically researched the statistical significance of psi in twins.