Sections:
Art Gallery
Centers
Enneagram
Healing Arts
Just for Fun
Know Yourself
Prosperity
Shop
Holly and Rick Hogue
coauthored the PROSPERITY LOVER'S GUIDE, "OR BETTER!" — a self-help paperback which steps the reader through manifesting what he or she desires by making charts. The book sold out and is now out of print. Rather than reprinting, it was updated and artist/author Poochie Myers joined them in rewriting and illustrating the new book, Prosperity Or Better Times Ten! The first book was the inspiration for developing the Prosperity web site. Review the Table of Contents and a few excerpts from the book.
Poochie Myers
Learn how you are an irresistible magnet with the power to attract unto yourself everything that you divinely desire in Poochie's You Can Have It All Prosperity class. Working with all your hopes and dreams, fears and dramas, Poochie will help you clarify what you really want, where you are going, where you were headed before and how you will now have abundance.
---
Articles:
More articles in Sharing
Coming Soon:
Prosperity And Better Times Ten!
by Holly Hogue, Rick Hogue and Poochie Myers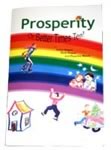 The workbook version of the book will be available online FREE. Send an email to
info@askforprosperity.com
to be notified when it is available.
Need web hosting? Please visit our sponsor: