Sections:
Art Gallery
Centers
Enneagram
Healing Arts
Just for Fun
Know Yourself
Shop
Print the Prosperity Chart Template
Print the Ring of Completion Template
Select an affirmation

Sponsor's Links:
Use affirmations from the deck of You Deserve These Cards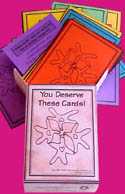 ©2000 P. Myers/Letters Etcetera! inc.
Prosperity Layout for You Deserve These Cards

You Deserve These Cards! can help you focus on the appropriate affirmations for your prosperity charts. Think about everything you want as you shuffle the cards. When you feel they are shuffled to your liking, pay attention to the way you have them turned in your hands when you deal. There are affirmations on both ends of the cards, but the layout for a prosperity chart involves the ones at the top of your cards as they are dealt. When you feel good about the shuffle, place the top eight cards as shown in the layout above:

1 What or better
2 Why or better
3 How or better
4 When or better
5 What or better
6 Why or better
7 How or better
8 How or better

Other than cards 2 and 6, use only the affirmations.

Begin with cards 1 and 5 for "What or better." Combine the two affirmations you have dealt into one affirmation and write your new affirmation on the chart.
Next, review the "Why or better" cards 2 and 6. The operatives may hit some hot buttons for you, but are intended to shed insight only. Write down the affirmations for cards 2 and 6. Another wonderful statement to write for why is, "Because I deserve it, or better times 10!"
The "When or better" affirmation on card 4 is reviewed next. You may also want to add a time-frame like "NOW, or better times 10!"
The affirmations on cards placed 3rd, 7th and 8th are to be written in the "How or better" area on the chart.
Complete your chart by stating where you want what you are asking for, or better, and write your inspiration in the center. Review the affirmations daily. You will rapidly receive what you want if you believe you deserve it, or better, times 10!

If you'd like to print the templates, access these links and close the windows to return to this page:

Chart Template

and

Ring of Completion Template

. If you would like to be notified when better quality templates are available to be printed, please email

info@askforprosperity.com

.

For an online reading, visit the Affirmations Page in Ask for Prosperity.