Available
on
CD
and
Tape!
"How To Attract Money" Harnessing the Power of the Universal Law is a fast-moving, easy-to-understand prosperity program that lays the foundation for manifesting money. This audio recording contains the most vital information necessary for manifesting money, which makes this program a must-have item for anyone on the path to a more enriching financial life. Eddie's unique perspectives and his dynamic metaphysical ideas can help anyone get on the road to manifesting prosperity right away. The topics covered in this program are
Understanding the Universal Law
Why the Universal Law Cannot Say No To You
The Law of Attraction
The Correct Way To Affirm
How to Visualize Your Prosperity
The Practice of Receiving
and a host of other topics that can turbo charge your prosperity manifestations. "The truth is that there are no limits to how much prosperity you can attain," says Eddie Coronado, "The question is 'Are you willing to do the spiritual work necessary?'"

Eddie Coronado is a prosperity teacher, workshop leader, and author of many magazine articles about manifesting money. He has spent the last decade gaining a better understanding of the spiritual principles that can lead to prosperity, and he has proven the Laws of Prosperity in his own life over and over again. He is a California Lottery winner and owner of a successful website building business, but he claims that his greatest achievement in life is his understanding of these spiritual principles, which anyone can learn to use. He applies the principles of the Universal Law to every area of his life, and he hopes that more people around the world will experience greater financial abundance through his teachings and insights. He is very happy to be a part of Prosperity.com by offering his unique prosperity program to those who want to lead a prosperous life by mastering proven prosperity principles.

Eddie Coronado divides his time between his home business, college, creating more prosperity products, and traveling as much as possible.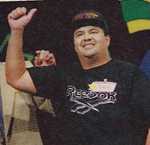 Email Eddie Coronado

 

"How To Attract Money"
Harnessing the Power of the Universal Law
by Eddie Coronado

Order in the secure on-line shop:

SPECIAL SALES PRICE NOW!
CD $15 or Tape $13